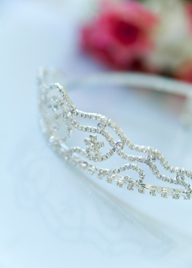 We offer discount crowns and tiaras as well as many other wedding hair accessories including decorative hair combs, crystal barrettes, hair sticks and crystal hair pins. Add a beautiful accent, from a little sparkle of spiral hair accessories to the stunning focal point of a princess wedding tiara. Add to any occasion from wedding tiaras to a sweet 16 tiara.
Wedding Tiaras: Add glamour with wedding tiaras, a sweet 16 tiara, a pink crystal rhinestone tiara for prom, wedding tiaras for girls or pageant crowns tiaras. Some wedding tiaras will attach like a headband with eyelets that will allow you secure it with hairpins. Others have small combs at the side and other wedding tiaras are actually a tiara comb all in one.
Decorative Combs: Decorative hair combs can be worn alone or attached to a veil. Hair combs can be simple prom or wedding hair accessories to elegant wedding tiaras.
Crystal Barrettes: Our crystal barrettes range from a simple to an elegant vintage look. Crystal barrettes are a classic accent that works with long hairstyles as well as up do hairstyles. Crystal Barrettes are classic wedding hair accessories for everyone from the flower girl to the bride or even prom.
Hair Sticks & Crystal Hair Pins: Keep you hair in place with crystal hair pins or decorate your up do hairstyle with hair sticks. These small functional wedding hair accessories can add a light accent for a night out, prom or weddings.
Spiral Hair Accessories: These wedding hair accessories are called Hair Twists and are small corkscrews that twist into an up do hairstyle. Spiral hair accessories look like jewels are sprinkled throughout your hair.
Visit our online store